Ok, to say I love softball is an understatement. I have the fondest memories of playing ball. I started playing T-ball (with the boys) as soon as I was old enough to. My team was Buck's Grill. We were sponsored by a local restaurant in my small town. Our jerseys were black with white lettering and my hat was black with a big "B" on the front. I have my hat to this day. It is very special to me. I know I wasn't that great at this stage, but I was definitely drawn to the sport and couldn't get enough of it.
I loved being a part of a team. I loved the excitement before a game. I loved running on the field. I loved the way it felt when you hit the ball in the sweet spot, and it seemed like it was never going to touch the ground again. There's nothing like it.
When I got a little older, I started playing softball and my Mom coached my team. We were baby blue and sponsored by Harden Vet Clinic (also in my home town). I have a picture of my Mom and I. I'm going to find it to show you soon. Anyway, I pitched that season. I remember striking out my archenemy. It was a wonderful feeling. She had stole my man, and I wasn't about to let her get away with it. I probably could have ended my softball career right there and been completely satisfied. Oh the life drama of an elementary kid.
The funny thing is...we became friends later in high school...good friends...my archenemy and I. The guy we were fussing over in our elementary years turned out to be a total dork. Funny to think about that now.
Shoot, this post wasn't supposed to be about me. Jesse, I just felt like you should know the reason I felt like you would enjoy the sport too. I mean, you might get to strike out some girl that steals your guy some day. Wouldn't that be cool? No, no, no...that's not what it's about. I think? Anyway!
The fondest memories are the bonds I made with the girls on my team, my Mom and I, and also, the love I developed for the game. My only regret was that I didn't continue to play through high school. I'm not even sure if it was an option to be honest, but it would have been nice to have continued. I am thrilled that you have this option (if you want it).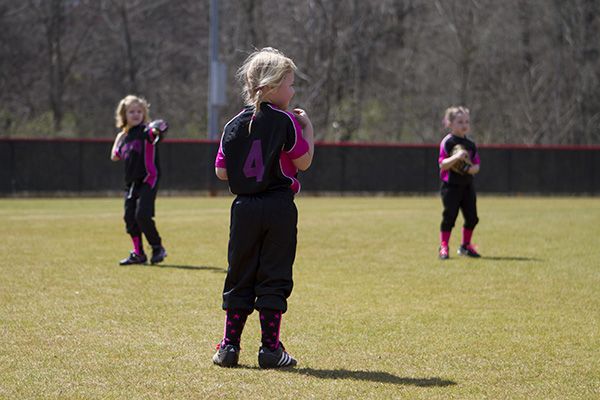 It was your Opening Day last Saturday. It was your first day as a softball player. Your team is the Red Hawks. It's quite confusing, because you are pink. You are the pink...Red Hawks. Hey, I like it! Anyway, it's a 6U league and you just turned 5, but you are hanging in there and doing fantastic!
The first few practices...you wouldn't let go of us. We had to follow you to the field. You acted shy.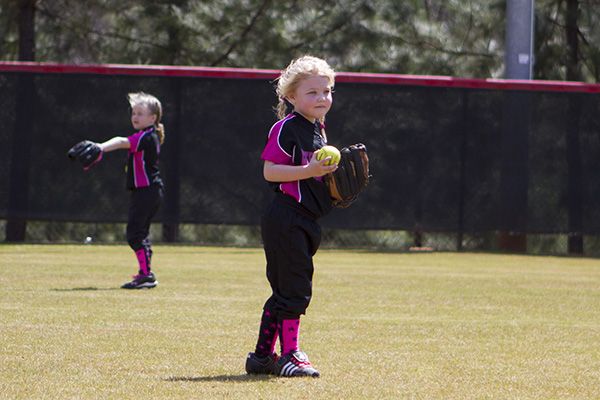 But then, you warmed up. You seemed to really like your coaches and teammates.
You loved the idea you were playing with "all girls."
You listened to your coaches when they gave you instruction. I watched you take it all in.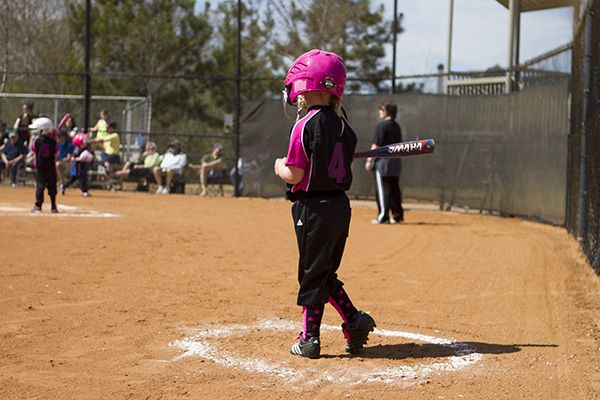 And it paid off on opening day. It really did.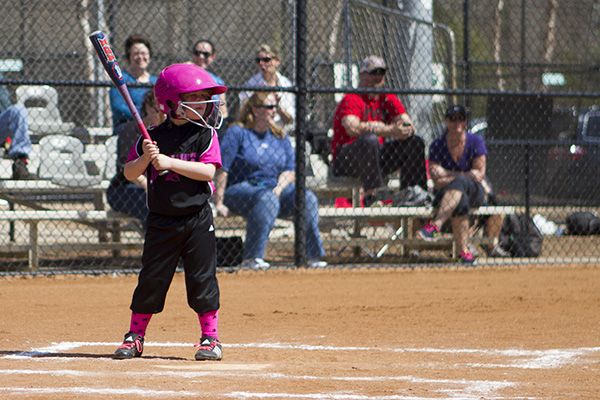 Aunt Kelly, Ms. Kelly and her Mom came to see you. I love that you can see them in the background here with all smiles anxiously awaiting your big debut.
And honey, you hit a pitched ball. You hit a pitched ball at every at bat. Girlfriend didn't need a T!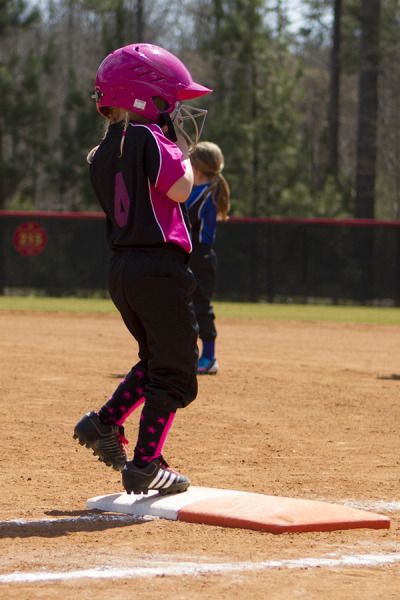 And you ran to first. Yeah, you knew where to go.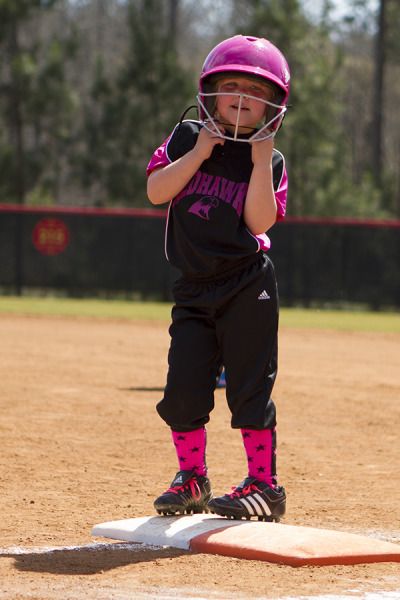 And you were so proud.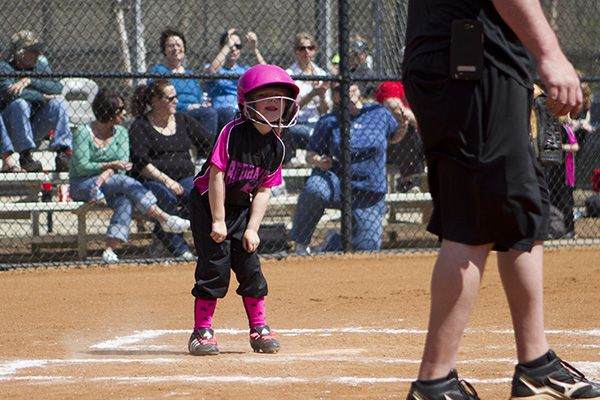 And you made it around to home eventually and stopped for someone to acknowledge the fact that, yes, you indeed scored. Thank you. Thank you.
And you took the field like a pro. No need for Mama anymore.
And you slammed it again, and we were all so proud.
It was hard to take your picture. I was trying to contain my excitement.
I love this picture of your on first.
But I might love this one of you running to second even more.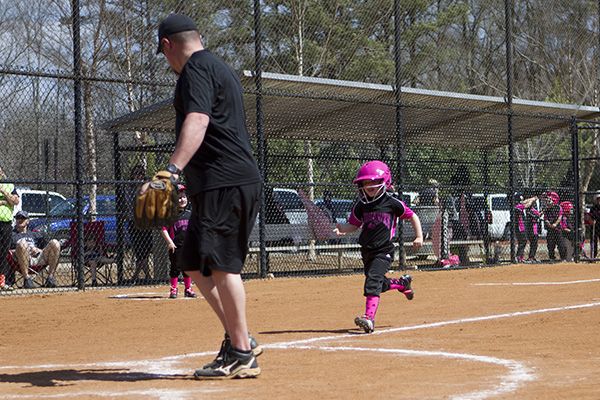 And coming home!
You got this girl.
And you played second base during the second inning. You seemed to know what to do.
I just can't tell you how proud I was.
I don't think I did this good in my debut Jesse.
But it was best seeing the smile on your face with your team at the end. You were so proud and seemed so happy.
I was just so excited to see you be a part of something that meant so much to me at your age. I just hoped that you would get that same feeling that I did, and I truly felt like you did. It was wonderful to watch.
They call you "Dimples" on the field. They call you "Dimples" because of the big smile you bring to every at bat. It's fantastic. I love it.
As your coaches say, "You may be small, but you bust the ball!" Love you...Dimples.