Now it was time for Magic Kingdom. I always get most excited about Magic Kingdom. I doubt that will ever change. I love this place.
We have been here once before (just for a day). That day will always be very special to me, but it left us all just wanting more.
It was September when we visited this time, but Disney was all decorated for Halloween, and they were having their annual Not So Scary Halloween Party this very evening. We had plans to stay late and party.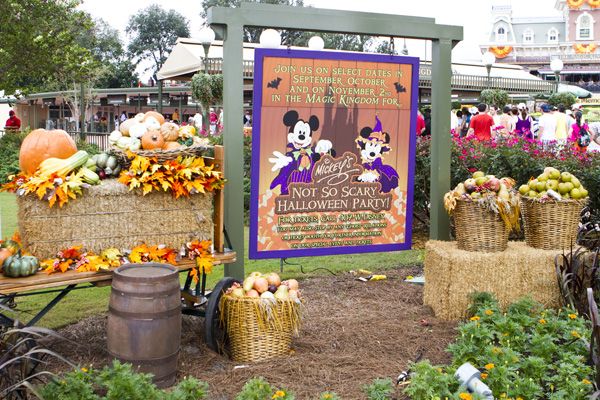 It was really overcast when we got there, nothing like the day before.
I could hardly stop and get a photo. The kids were just too excited. They were certainly not waiting for these folks to move.
So, we just got a quick shot along the side.
I loved the Fall wreaths on the light poles and around the park.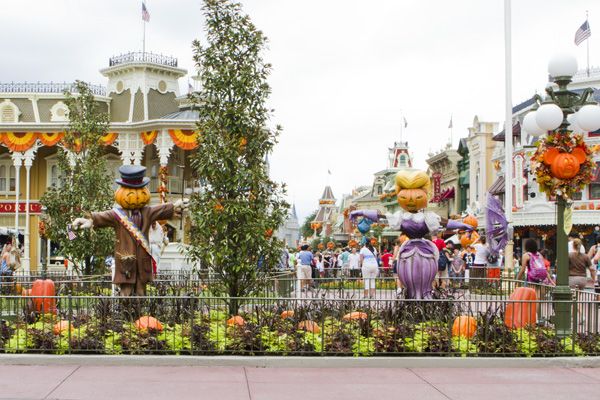 It all looked beautiful. I just wished I had a nice, blue sky.
Like I always say, there is nothing like those first moments walking into the Magic Kingdom. It is just as magical every single time.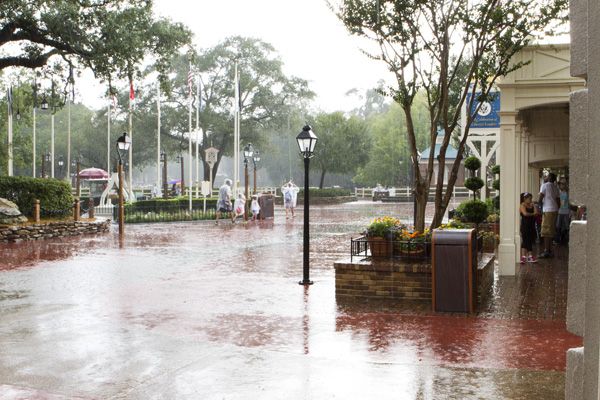 We made it down Main Street and took a left towards Splash Mountain (one of our favorites), and that's when the bottom fell out. Just look at it. I've never seen Disney so bare. The crowd level was low, but add rain to the mix and you pretty much have a street to yourself.
It was a little too strong to keep walking, so we stopped by a shop and looked at all the goodies.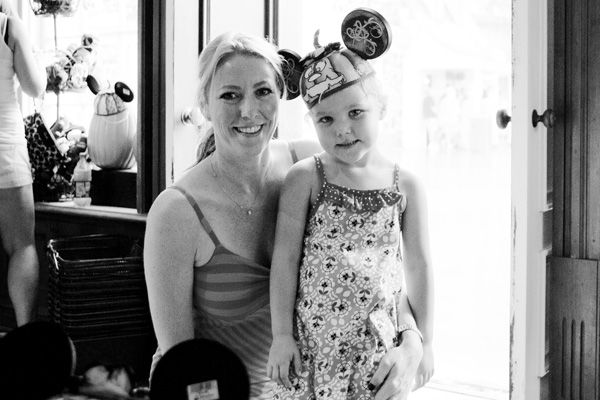 Jesse tried on hats.
I love the Halloween version of the mouse ears. I should have bought it, but I knew it would be squashed by the end of the day.
If I remember correctly, Splash Mountain was closed temporarily for maintenance, so we ran on towards Space Mountain. We had to stop several times along the way for shelter from the storm. One of my favorite moments is when we were all gathered under a tiny information center in Tomorrow Land. The rain was heavy and there was even a little bit of lightening, but something about being cold and wet and huddled up together and planning our escape was very special to me.
I saw the People Mover up ahead, and it seemed like a perfect place to be. It carried us around Tomorrow Land, and believe it or not, the kids loved it.
I laugh because it is probably one of the slowest rides at Disney and not that big of a deal, but we had so much fun running fast through the rain to find the entrance and jumping on the moving sidewalk to grab a dry seat out of the storm.
As we sat down, I remembered that it would actually take us through a section of Space Mountain.
That was the perfect prelude to the big ride.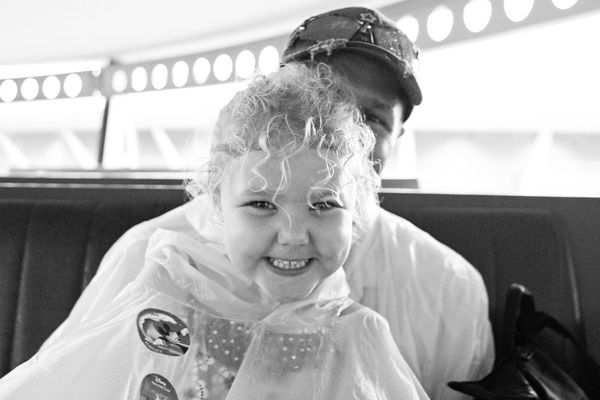 I mean, can't you see how excited we were?
I was a little nervous about Jesse being tall enough to ride.
We took her to the height measuring station. It took her a nervous minute to stand tall. "Stand straight Jesse. Stand straight so you can ride." Jesse finally stood tall, and the lady said, "She's good!"
Oh my I was thinking! Jonah has done this before. He's fine. Jesse's so young though. Can she really do this? My baby girl is going to do this...is she really going to do this?
There was no wait.
We were in a tiny line to get on the ride when I realized she would have to sit by herself! I forgot about this part! Would she do it? Would she actually get in by herself? She was hesitant, but....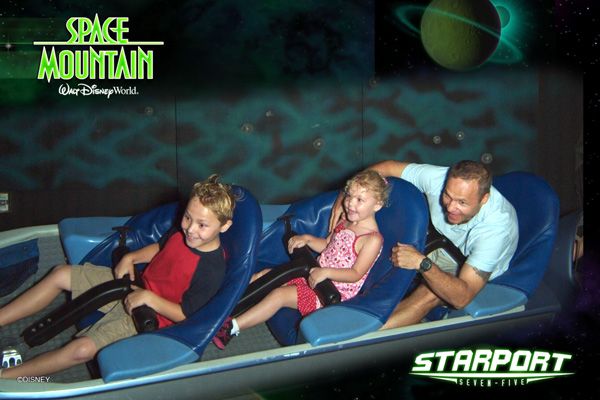 she sure did! I was so nervous. "M, hold on to her!" I said. My heart was racing. There were two cars connected, and I was in the one just behind M. As we went around the first curve, I was still yelling to him, "Hold on to her!"
Oh good grief. She wasn't scared even a little. She wasn't about to fall out. My poor M. I probably scared him to death. As soon as we got off she screamed, "Let's do that again!" So, we did. Again, and again, and again, and again.
It is still, the best damn ride at Disney. No question.
Then we hit Splash Mountain soon after. I think we did it several times. This one is high on our list as well. My kids adore it, and so do we. It is such a wonderful journey through the Briar Patch with Br'er Rabbit and Br'er Bear. I just love it.
There was another place we visited. I wanted to explore Tom Sawyer, and we did.
The kids were excited about the raft.
I guess the faces don't look the same as the big rides, but they were still happy to go.
I was so nervous and anxious.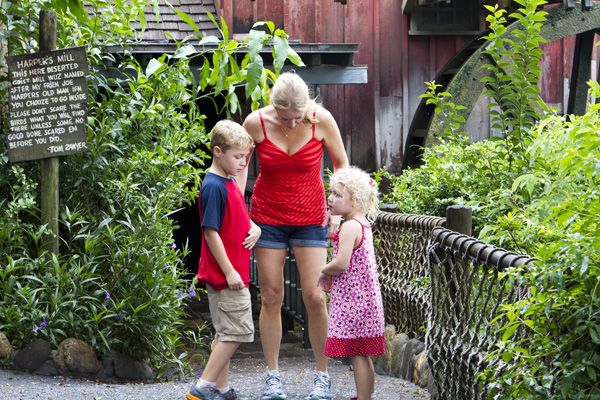 Kids...I want you to know something.
We didn't get to explore Tom Sawyer Island the first trip, and I was sad about that. I wanted to so badly. I couldn't wait to take you here. I came here with my Mom when I was around your age Jesse.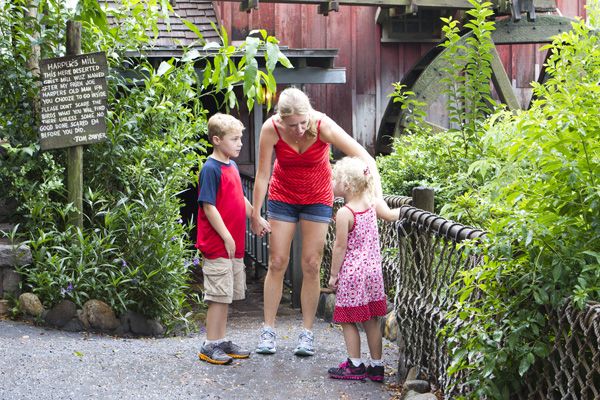 I stood in this exact same spot with her.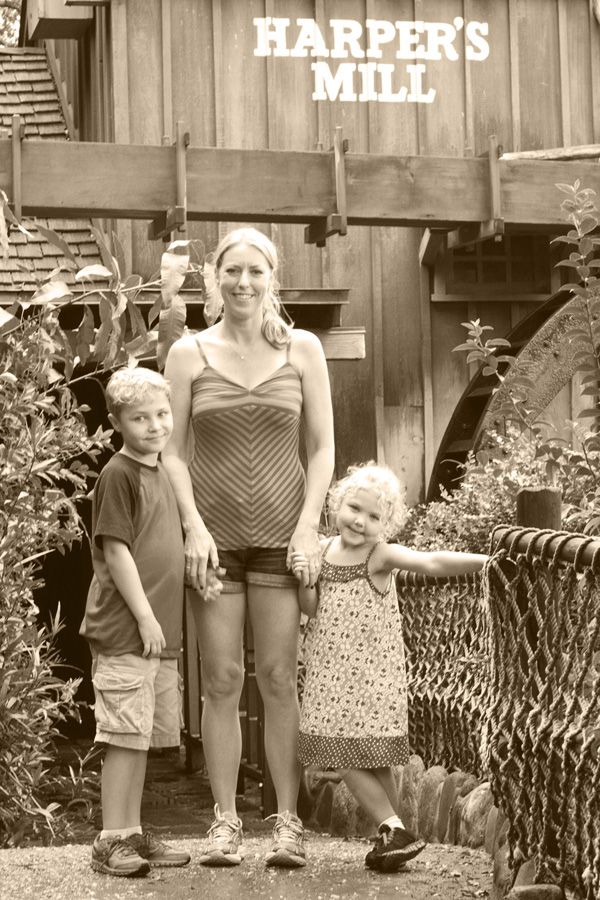 I wanted to capture the same moment with both of you. I know I told you this while we were standing there, and I'm not quite sure you understood at the time, but one day when you read this, I just want you to know how moved and happy I was to be standing there with the both of you. It meant the world to me.
I'm quite sorry I look so goofy. It's what you call goofy, happy.
Here we were. Thanks for this Mom. Thank you so much. I felt you there with us.

Thank you my love for capturing this for me. None of this would be possible without you.
Then, we set out to explore the island.
I remembered bridges and trails.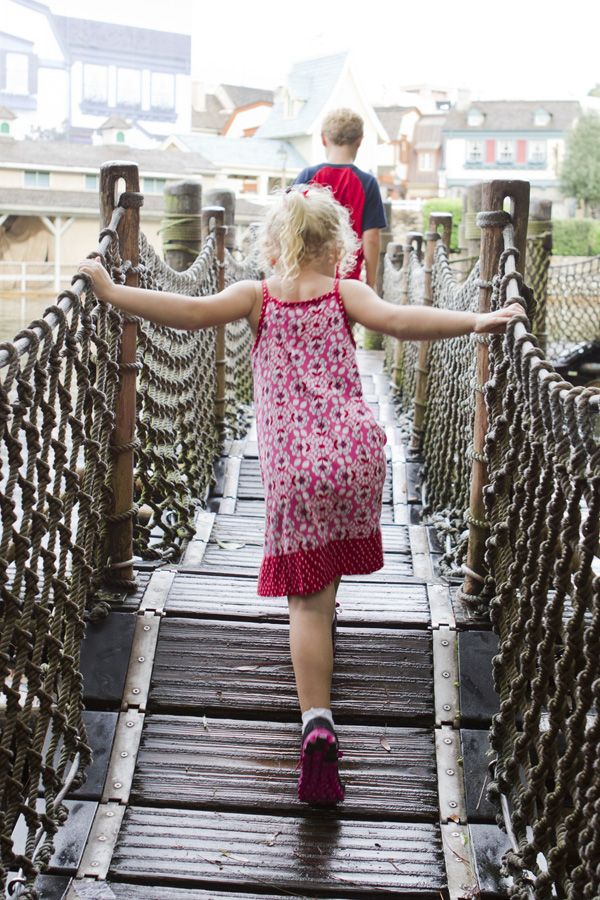 I really remembered this one bridge that moved and shook as you walked across. I knew you would love it.
You did. You both ran back and forth many times. I felt like a kid when I put my camera down and joined you.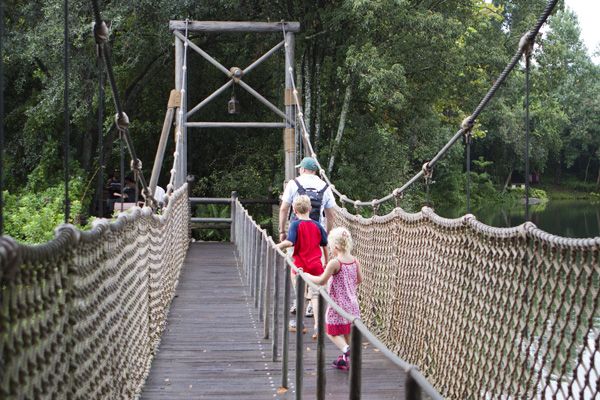 I didn't remember much else about the island though. So, we set out of figure it out.
There was a fort that you kids climbed all around. It was fun chasing your through the secret passages. There were also tunnels around the island that were fun to explore. We had a great time.
When we finished our journey, we sat here and waited for the raft.
You guys played a quick game of checkers. I enjoyed watching you so much.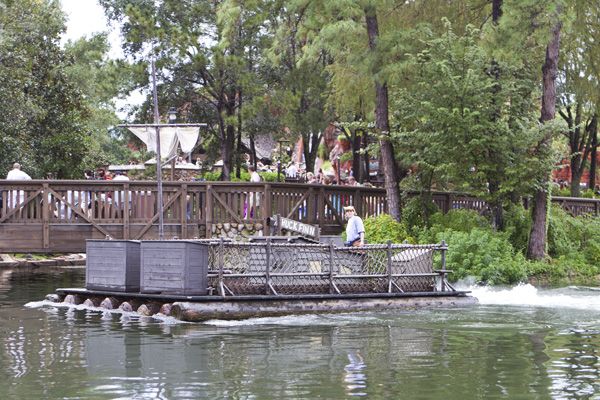 I will never forget this. I hope one day that you both can enjoy this experience with your littles ones.
We had a magical day. We loved the Toy Story ride, the Haunted Mansion, the Pirates of the Carribean...all of them. We absolutely loved our lunch at Liberty Tavern. We dream about that meal to this day. It was fantastic.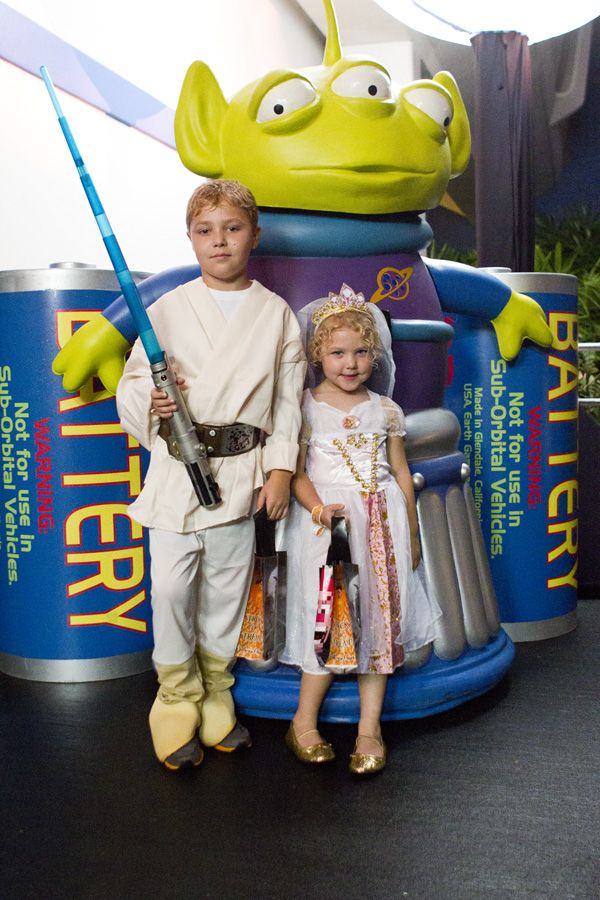 When night came, it was time to transform in to our costumes and get the party started. (I literally threw these costumes on you in a handicap bathroom stall. You guys were so excited and filthy. Oh my goodness, you were filthy. I just closed my eyes and put the old clothes in the bag and walked out not caring a bit.)
We had to figure out how all this worked. We got our wrist bands, because without a paid ticket for the party, we were not allowed to ride rides and participate. Then, we got a map of different stations around the park that had the goods. We were on a mission.
We got the bags pretty full, but about half way through, you guys decided that it was more important to ride more than collect candy. So, we did.
I can't smile enough seeing you in costume riding Space Mountain yet again. Jesse, we had to put your tennis shoes back on early in the night or else you would not have been tall enough.
The fact that we could all experience this together meant so much to me.
Later in the evening, we caught the fireworks show.
It was a little different this time! It had a little bit of a spooky theme! Oh, it was spectacular.
Jesse was asleep in her stroller for the second year in the row. Sorry honey...you will be awake next time...I can just feel it.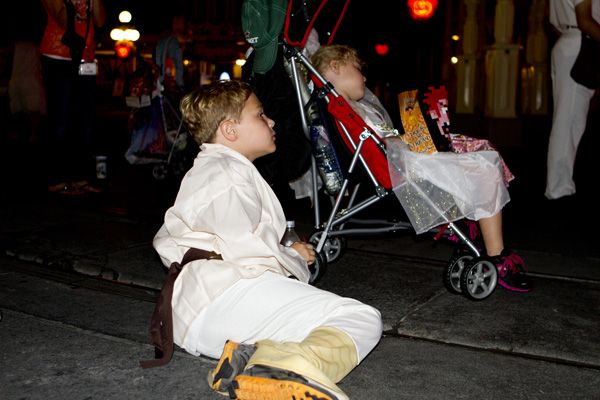 Jonah was hanging in there...but yes, we were all pretty exhausted.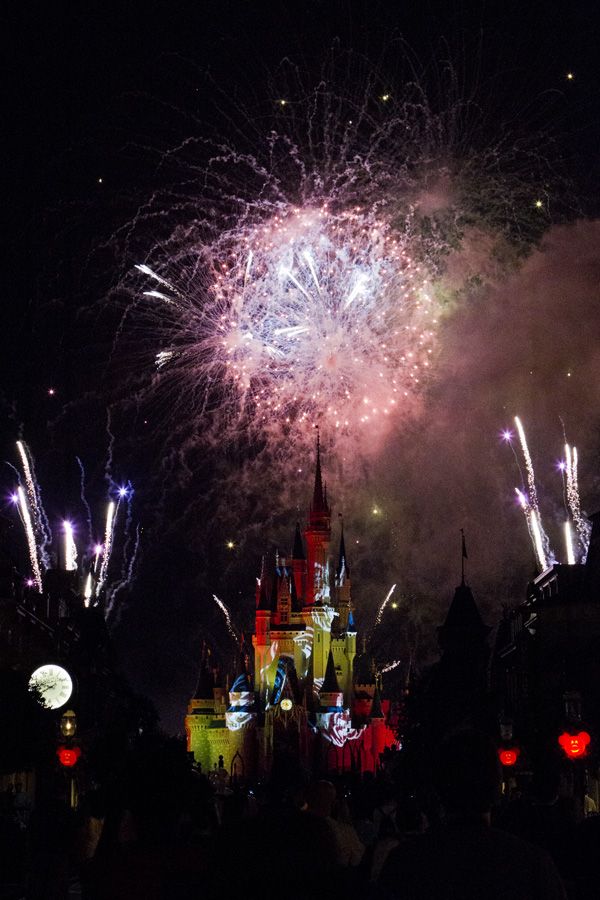 But the show was absolutely amazing.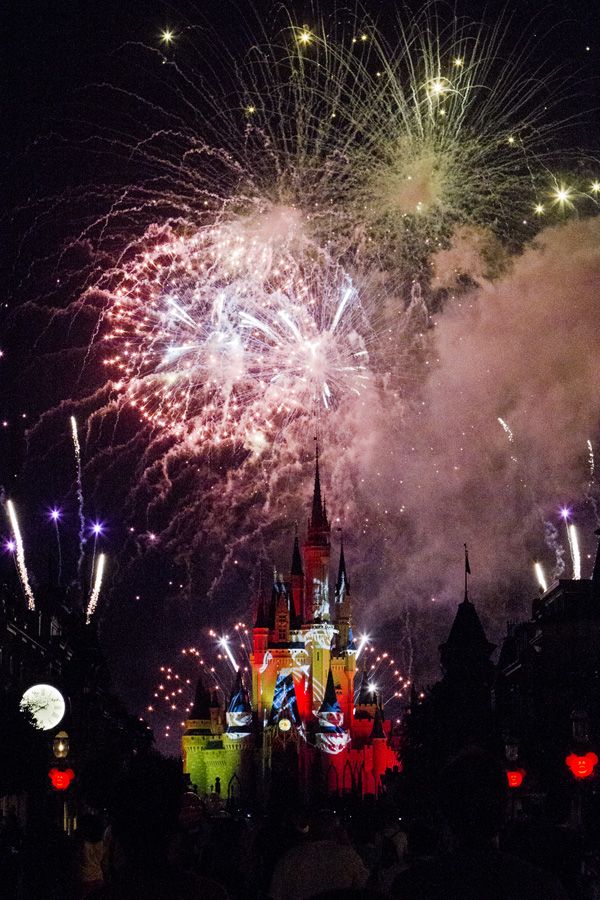 I feel like no matter how tired you are, you should really push through to soak up as much of Disney as you can.
You will never regret it.
It was a very special day. The next day was to be a day of rest before we went to visit Harry Potter. Rest? Not really. The kids didn't rest. What were we thinking? We spent the day chasing them around the lazy river at the hotel pool that they had been aching to jump in to. But, after this "resting" we were planning a full day at Universal's Islands of Adventure...or really, to go to Hogwarts. I can't wait to share that with you.