Back in the fall, we spent a lot of time clearing out the rough to build a fence for Luke. We spent days and days and days out there. It was sort of overwhelming. The leaves in the yard were also overwhelming at the very same time. The kids naturally gravitated to them.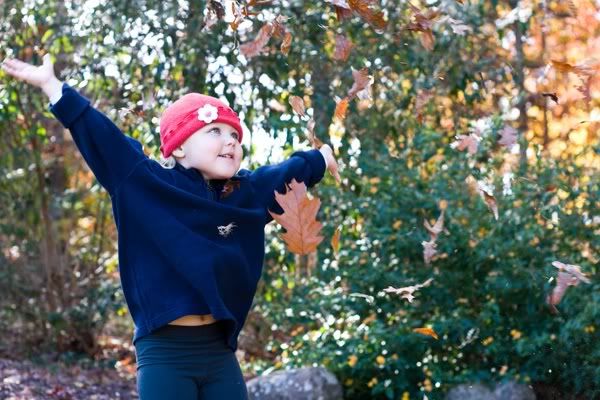 The sun was beautiful this day. I was in and out helping my love (who was doing most of the work), and when I saw how the light was shining on their faces, I ran in to get my camera.
It was a little cool this day. Earlier that morning, I was in a hurry dressing Jesse and grabbed one of Jonah's old sweat shirts. She loved it. She picked out her hat on her own and off she went.
We spent some time on our grassy yard trying to get some of the leaves up, while Dad had a bonfire burning in the rough. I thought it was a great opportunity to burn some of these leaves too. That turned into "Mama, no! Don't burn our leaf piles!" Grief. I don't know why I try to accomplish anything.
We would rake a while and then they would swing for a bit.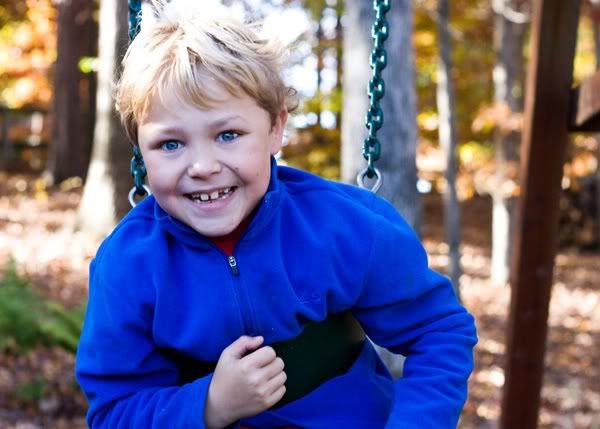 Do your kids swing on their bellies like this? That's what they like to do the best.
And then they would run back in the pile.
And back to the swing.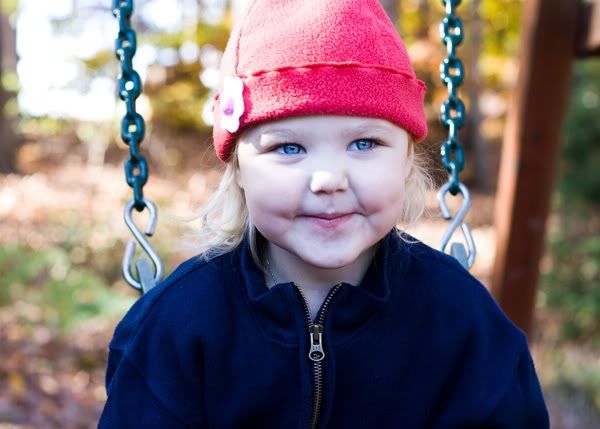 She loves it when her brother pays attention to her and plays with her.
Here she is just before the belly swing launch. I can't believe I captured a serious face.
They had so much fun, we even made a picnic out of it. They just really didn't want to go inside.
And somehow, thanks to the sun and their good moods, I got some great shots. I've enjoyed looking back at them.
Then, December came, and it was time to think about a Christmas card. Time flies you know? My beautiful sunshine friend decided to take a vacation the next several weekends and left no opportunity to get good family shots, so I kept going back to these. I couldn't decide which picture to go with. Who cares really though? I never study anyone's Christmas card, but I do feel a since of joy and excitement when I know I'm opening one. Who will it be? I tear into them like a kid on Christmas morning. It's a joy. I could care less if it is a professional picture or even includes a picture at all. I just love the tradition of sending and receiving Christmas cards. It's the simple things.
Anyway, I started toying with the pictures in Photoshop.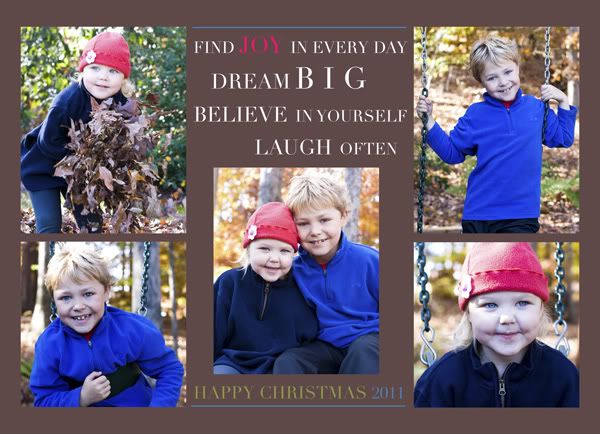 I created the front first. I mean, how many pictures can you fit on a card ha? Over the top? Maybe.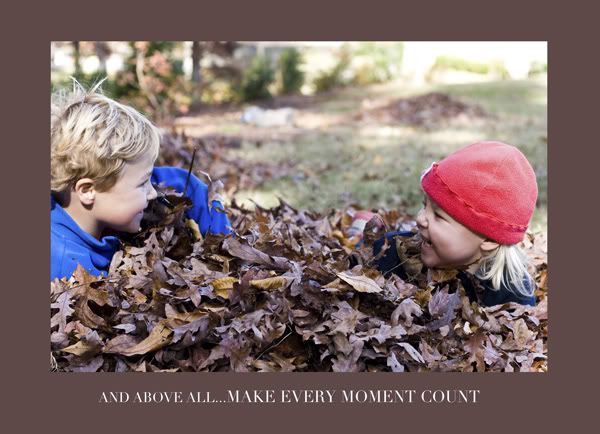 And here's the back.
Several times I thought about changing it and never had time. So it stuck. I spell checked it a million times, because I goofed last year and misspelled Merry. Who does that? Anyway...I was sure the spelling was good.
The next morning after it was ordered and all was said and done, I realized just one thing. I forgot to put our names on the card. Happy Christmas folks! You figure out who this is from would ya?
Good grief. I should seriously give up because I obviously have way too much on my plate to be making Christmas cards. Right? Oh well.
So, I ordered more with names. I thought I would send those to people who didn't see the kids as much, especially since I didn't use a family picture. But then, Jesse started helping stuff the envelopes and it all sort of got mixed up. Your card might have looked like the picture above...or it might have had names on it.
Good grief. If you do not laugh at yourself and your own mistakes, you will go crazy. I seem to give myself a lot of opportunities to laugh.
Here's the thing though. I'll look back at this card when I'm 80 and get all warm and fuzzy inside. I'll remember this day when we had a blast just playing in our own backyard. I'll remember how the sun was so beautiful and exactly how it shined on their sweet faces. I'll remember how well they played together. It will make me happy.
And the words on the card...well...it's actually my words to them and it seemed to be appropriate for everyone. Why not?
And who cares about names. I'll know exactly who these blond kids are when I'm 80.
Happy Christmas!